The ESG Journey Series – Rob Ward, MUFG (Ep2)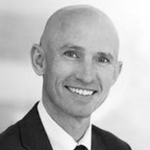 We caught up with Rob Ward, MUFG's Head of Project Finance and Head of ESG Finance for the Oceania region. In this interview you'll hear MUFG's commitments to sustainable finance and carbon neutrality by 2030; plus Rob's thoughts on key ESG risks and challenges, how to ensure a successful project and avoid the future implications of 'greenwashing'.
Rob has 25 years investment banking experience covering structured finance, advisory and debt capital markets. Rob is a board member of Infrastructure Partnerships Australia and is also a member of IPFA's Australia Branch Council.
This 14-minute interview, recorded earlier this year, is the second episode of our ESG Journey series where we speak with exceptional industry leaders to uncover their unique perspectives on how they build and promote best practise ESG behaviours across a variety of sectors. View all episodes on our website here.