IPFA is committed to driving and supporting change with respect to diversity and inclusion (D&I) in the energy, infrastructure and renewable industries.
On International Women's Day we are recognising and celebrating the achievements of women, those identifying as women, non-binary or any underrepresented gender, as well as male allies.
We are proud to feature over 40 individuals who have been nominated by our international network for their achievements. We invite you to take a look through the nominations below that have been listed at random. Happy International Women's Day 2022!
Sarah Caruana
Group Director, Buildings & Places, Victoria, South Australia and Tasmania, AECOM
Sarah is a ferocious advocate for fairness and is more than open to challenging bias when she identifies something, calling it out in a constructive and educational manner to her colleagues. I am in awe of her breadth of knowledge and her confidence to jump in and make a difference. Sarah is a member of our ED&I committee and is pushing our boundaries and assisting bringing us to the next level with well researched global best practice. Always with the why it's the right thing to do and with passion.
Siobhan Smyth
CEO of Project and Structured Debt Europe/Asia, Siemens Financial Services
As one of the first financing professionals in the renewables sector in the 1990s, Siobhan can look back on an industry-shaping career where she has proven there is an equal place for females to establish themselves as market leaders. At SFS, Siobhan creates opportunities, inspires, and supports those from diverse backgrounds to develop their career paths. By staying curious and constantly encouraging her multicultural team, Siobhan puts great emphasis on diversity, equity and inclusion. For example, with the establishment of a growing cross-border DEI network of more than 40 people.
Francisca Morgado
Investment Manager, Project Finance, CDC Group
Francisca has extensive experience in project finance transactions within emerging markets, including Africa which is her current focus. Prior to working at CDC, she held roles at IFC and did an internship with the Asian Development Bank in Manilla. She completed her graduate programme at INSEAD Business School, across France and Singapore. Francisca is passionate about infrastructure as a driver of development. She brings value, efficiency, and energy to everything she does and inspires others to do the same. Additionally, she was a co-Chair in CDC's women's network and currently participates in the CDC leadership group, focused on Gender and Diversity.
Soltice Morrison
Senior Consultant, Aurecon NZ Limited
Soltice is an Environmental Consultant, recently recognised as one of New Zealand's 'Y25 trailblazing women' by YWCA. As a Māori woman in an international engineering and advisory organisation, she provides environmental management advice underpinned by a holistic understanding of Te Ao Māori (Māori Worldview). Soltice volunteers her time to assist environmental research projects and supports Engineering NZ with educational programmes designed to encourage women and Māori into STEM careers. Soltice challenges bias through taking on leadership roles in matauranga Māori and bringing that voice to infrastructure delivery and the environment.
Claire Bleazard
Engineer – Digital Systems Integration, Hatch
A senior engineer at Hatch, Claire works to fight bias by leading Hatch's South African Diversity and Inclusion committee. Through this role, Claire has organized the celebration of D&I events, the expansion of inclusive facilities, and led campaigns to recognise other's efforts to champion diversity. She started a mentor circle for female employees in control and automation, and is a member of the CESA Transformation & Development Committee.
Alison Baptiste
Director of Operations, Infrastructure and Projects Authority
Alison fights bias through constructive challenge and being a role model.
Alison is a Faith & Belief Champion for the Cabinet Office – making CO a place where everyone can thrive and where faith and belief is respected. Alison also leads the Values Group that has reduced bullying and harassment (often bias related) in IPA by 39% in 2 years.
Susan Gardner
General Manager, Vercity
Susan has been involved with D&I at Vercity since it's inception and now chairs the steering group. She fights bias by championing marginalised people and putting initiatives in place which allow for continued improvements in inclusion, including advocacy for accessibility. Susan has an accomplished career at Vercity, having developed from within to a senior role and completed an MSc, also balancing a busy family life.
Madhu Singh
Investment Manager, Infrastructure South Asia, CDC Group
In an often male-dominated field, Madhu is one of India's leading project finance investment professionals. She has over 15 years of experience working in the energy sector at some of India's largest project finance investment institutions.
Madhu promotes the transition of the energy sector from conventional to renewable resources and has worked on some of the country's most complex projects in energy generation, transmission, and distribution. Having honed her project finance expertise in India, Madhu is helping to establish CDC's South Asia project financing business. She is a role model for professionals across infrastructure investment and a dynamic leader who is committed to mentoring others.
Cecelia Fadipe
Director, CFBL Consulting
Cecelia is a qualified accountant of 25+yrs, CIMA fellow, and Director of CFBL Consulting a specialist consultancy specialising in independent cost audits on infrastructure projects. Having worked on major infrastructure projects – HS2, Crossrail, and Hinkley, she established the multidisciplinary cost assurance steering group, a CSR/ESG (Governance) initiative. The steering group, borne out of the common agreement by the parties was purposefully from the onset, a diverse multidisciplinary group of experts. Regardless of challenges, she continues to partner with funders, clients, and contractors to drive assurance, change and transformation industry-wide.
Fiona Zhang
Director, KPMG China
Fiona is a leading advisor to Infrastructure organisations across the Mainland China markets. Based in Beijing, Fiona works with investors, construction SOEs, developers and multi-national corporations on some of the most complex infrastructure assets and projects in China. Fiona is renowned for the quality of her work – regularly setting new benchmarks for "best practice" performance in her projects. Fiona's endless pursuit of excellence encourages those around her to do the same and is helping to cultivate the next generation of infrastructure stars in the Mainland China infrastructure market.
Katherine Beisler
Head of ESG Consulting, Hollis
Katherine breaks the male-dominated industry bias every day. Heading up our pan-European ESG service, she has more than doubled the size of our ESG team in 6 months and helped dozens of clients achieve credentials such as Net Zero Carbon and BREEAM Excellent across their portfolios. She has also implemented ESG training across our organisation so that all departments and offices are equipped to offer sustainability advice far and wide. Katherine represents the bright future of our industry: one that has the health of people and planet at its heart.
Mary Waithiegeni Chege
Principal at EMSI & Associates and Lawyer
Mary, a Founding and Steering Committee Member of the African Network for Women in Infrastructure of the African Union Commission. She is a lawyer, 20 years' experience holding a Bachelor of Laws and a Master of Laws. She is an Independent Director of the Nairobi Metropolitan Transport Authority and has advised on projects – dams, power generation, cross-border gas pipelines, bulk fuel storage, BRT and Broadband Network projects. She is a leading lawyer in the Energy & Projects Sector and is a Certified PPP Professional and international accredited PPP trainer
Jill Kennedy
Global Head of Learning and Development, Clyde & Co LLP
Jill's work in the field of Learning & Development is all about opening up opportunity to those who may not otherwise have had a seat at the table. Whether she is supporting partners and leaders in creating inclusive teams where everyone can thrive, or coaching upcoming talent through promotion processes, she works tirelessly to ensure an environment of fairness and continuous development throughout the firm. She is known throughout our organisation as a connector, an influencer and a role model.
Yolanda Fernandez
Business Development Director, KPMG in the Philippines
Yolanda is the catalyst for helping establish KPMG in the Philippines' development sector practice. Backed with her extensive experience from working with other multinational firms, she helped drive the pursuit of opportunities with multilateral development banks across the region. Apart from her business development role, Yolanda is also a Social Development and Gender Specialist. She is also an advocate and a volunteer in helping the marginalised society living in rural and remote areas in the Philippines.
Caroline Lytton
Managing Director | Head of Power & Renewables, SMBC Bank International plc
Frank and fearless, kind and compassionate, Caroline is never afraid to challenge and support. She is SMBC's EMEA Head of Power and Renewables: a high profile role in the energy transition sector, arguably one of today's most challenging fields. On a day to day basis, Caroline is a generous colleague, and supports individuals around her regardless of their background: her view is that if her colleagues are doing well, that, for Caroline, is a job well done. I can't think of a more deserving nominee.
Fatma Maleta
Cofounder, Papillon General Enterprises
They educate the community to fight biasness and encouragement of the people to take part in doing so globally.
Erana Kingi
Consultant, Project Management, Aurecon
Erana is a Māori woman and Project Manager in the Transport Service Group at Aurecon New Zealand (an international engineering and advisory organisation). Her role includes working various city shaping projects in Auckland and Hamilton, including the $4.5B City Rail Link project. As the Te Ao Māori Pillar lead for Aurecon's Diversity, Equity & Inclusion network, she is dedicated to bringing Aurecon's He Rautaki Māori strategy to life and committed to ensuring all employees have the opportunity to learn and embrace Te Ao Māori in a safe and caring environment.
Hlengiwe Zondo-Kabini
Partner, Fasken
Hlengiwe Zondo-Kabini is experienced in advising on government regulatory, public finance and procurement related issues, that feed into the negotiation and contracting for projects. With regards to procurement and public regulatory, she provides advice on end-to-end procurement process and compliance review, drafting of tenders for publication, drafting of legal opinions and drafting and reviewing of legislation for implementation of projects. Hlengiwe leads in a quiet but forthright manner, especially in spending time teaching and supporting junior lawyers. In addition Hlengi is an advocate for transformation in the legal sector.
Steph Ward
Partner – New Zealand Head of Infrastructure, KPMG New Zealand
Steph leads the Infrastructure Sector in New Zealand, helping clients to articulate then solve their most complex problems for the betterment of the economy and society. A champion of the value driven by public, private and philanthropic sector collaboration, Steph is particularly interested in how we design and grow our cities to promote a low emission economy, inclusive spaces and affordable housing. As a member of the Women's Infrastructure Network NZ she is an advocate and role model for women developing their careers in the infrastructure sector in New Zealand.
Natalia Korchakova-Heeb
Global Lead for Public Private Partnerships and Greenfield Hospitals, Siemens Healthineers
Natalia's contribution to "BreakTheBias" is the translation of Siemens Healthineers sustainability strategy and its part on inclusivity and diversity in value partnerships, the delivery model that Siemens Healthineers uses for public-private partnerships (PPPs). We define success of PPPs as combination of Value for Money, Value for People and Value for Innovations and want to make sure that PPPs provide healthcare for all, especially for indigenous people, vulnerable and marginal groups.
Helen Oxenbridge
Senior Manager, Global Infrastructure Sector Executive, KPMG
Helen has been the lynchpin of KPMG's Global Infrastructure network for over four years in her role as global sector executive. It was Helen who championed putting the United Nations' Sustainable Development Goals at the heart of the network's purpose, and Helen who advocated for then set up and ran KPMG's infrastructure sustainability network. Her vision, passion and commitment are respected by colleagues and clients worldwide.
Kristina Samstag
Talent Developer, Clifford Chance Partnerschaft mit beschränkter Berufshaftung
Reverse Mentoring is an essential part of Clifford Chance's journey towards a more inclusive culture. The global initiative has won a prestigious award for diversity and inclusion – thanks to Counsel Anna Thwaites and Talent Developer Kristina Samstag, who initiated and lead the German Reverse Mentoring programme. It's about allowing an open exchange and a trustworthy atmosphere for the senior leadership to learn from junior members about many different types of lived experience and vice versa. The aim is to sensitize the leadership team to diversity and inclusion issues.
Ellie Rowland-Callanan
Head of Marketing, Vercity
Ellie, has led the change at Vercity, by leading the EDI Group and being an active member in us achieving our accreditation – Investors in Diversity. Ellie is always willing to have uncomfortable conversations to break down barriers.
Catherine Howard
Partner, Herbert Smith Freehills
Catherine is an important role model in the firm, being a successful lead partner in the infrastructure sector. She helps commercial developers, and promoters of energy and infrastructure projects on high-profile and politically sensitive projects. Catherine is recommended by Chambers and Legal 500. In addition, Catherine is sponsoring partner of the firm's graduate recruitment programmes; in which she leads initiatives such as contextual recruitment and our 10 actions for change. These initiatives and Catherine's role as the final decision maker, resulted in the firm hiring a more diverse trainee cohort.
Helen Lister
Commercial Finance Specialist, Infrastructure and Projects Authority
Helen is a "Net Zero Champion" within the IPA and has long been an advocate of low carbon energy – she says "having the chance to contribute to the decarbonisation agenda within HMG has been an amazing opportunity". Helen joined Infrastructure UK, part of HM Treasury, in 2013 to deliver the UK Guarantees scheme. Helen is now part of the Financial Advisory team in the Infrastructure and Projects Authority. Helen has over 25 years of experience in project and infrastructure finance across a range of sectors and has specialised in the energy sector.
Anna Thwaites
Counsel, Clifford Chance Partnerschaft mit beschränkter Berufshaftung
Reverse Mentoring is an essential part of Clifford Chance's journey towards a more inclusive culture. The global initiative has won a prestigious award for diversity and inclusion – thanks to Counsel Anna Thwaites and Talent Developer Kristina Samstag, who initiated and lead the German Reverse Mentoring programme. It's about allowing an open exchange and a trustworthy atmosphere for the senior leadership to learn from junior members about many different types of lived experience and vice versa. The aim is to sensitize the leadership team to diversity and inclusion issues.
Francesca Profita
Investment Associate, Infrastructure Equity, CDC Group
Throughout her career in infrastructure, Francesca has focused on renewable energy. At CDC, she supports the company's investments in infrastructure projects across Africa and South Asia, with the goal of benefiting the communities they serve. Francesca is passionate about advancing sustainability in infrastructure and to this end, she has recently been looking into how investment in green hydrogen projects will be critical to achieving net zero and reducing emissions in heavy-emitting sectors.
Francesca is also an active participant in CDC's Gender & Diversity Finance working group, with a focus on promoting gender-smart investing in infrastructure, specifically with regards to climate finance.
Vanessa Medina
Senior Associate, Freshfields Bruckhaus Deringer
Vanessa advises on the whole-of-life major project cycle focusing on strategic, practical, and ethical advice in the delivery of global projects. She has done extensive pro bono work relating to victims of trafficking and an active Freshfields' women's group member. As a champion of social mobility, Vanessa is involved in the Stephen Lawrence scholarship programme addressing the disproportionate under-representation of black and black mixed-race men from less socially-mobile backgrounds in law firms and the 1 Hour Project which provides access to a professional network for students from less advantaged backgrounds.
Helen Beatty
Partner, Herbert Smith Freehills
Helen is a champion of diversity in all areas, and in particular in supporting women within the firm, and throughout the industry. Helen has formed and led HSF's Women in Infrastructure group; organising events for our women clients and HSF team who are focused on the infrastructure sector to meet and build fruitful relationships leading to collaboration and opportunities for all attendees. Feedback has been consistently positive, with many women clients noting that it is rare to have such opportunities to grow contacts with women peers in other organisations.
Fiona Anderson
Director, KPMG Infrastructure & Projects Advisory
Fiona is a project finance professional with over 14 years of experience working with public and private sector entities. Her focus has been on the feasibility, procurement, financial structuring, and delivery of complex infrastructure projects. Additionally, she participates in KPMG's leadership groups focused on Women, Diversity Equity and Inclusion, and People Strategy, helping to further enhance the firm's culture. As a mother of two young children, Fiona tries to set an example for how females can thrive in their career, while also caring for a family.
Emmanuel Deblanc
Head of Private Markets, AllianzGI
Emmanuel places a notably strong focus on the recruitment and retention of talent. Whilst being in a senior leadership role, he actively carves out time to play a direct and active role in the recruitment and career development of female professionals, He fosters a meritocratic and growth-orientated culture, which involves actively facilitating changes in the organisation to fight bias and provide career development opportunities for female talent.
Rachel Allen
Asia & Americas Operations Manager, IPFA
Rachel is the driving force behind IPFA's D&I initiatives. Through her dedication and passion for both equality and equity, in 2020 Rachel initiated IPFA's D&I Taskforce, which has been instrumental in developing IPFA's long-term strategy for driving and supporting change within IPFA and across our global activities. Rachel has strived to ensure IPFA's strategy focuses on ensuring our internal policies are diverse and inclusive. Rachel has created opportunities to support and celebrate our members' D&I initiatives, connecting our global network through shared knowledge as we all grow and improve our understanding of D&I together.
Lara Bezuidenhoudt
Partner, Fasken
Lara Bezuidenhoudt is the leader of the Johannesburg office Finance and Projects team as well as the Johannesburg office Chairperson. She is highly regarded for her skills in Public-Private Partnerships (PPPs) and project finance, specifically, infrastructure development. With her in-depth knowledge and experience client's seek Lara's counsel when navigating complex transactions. Lara cares deeply about the development of the infrastructure lawyers, one of the firm's values. She strongly believes in nurturing talent, and year-on-year, the firm has successfully promoted and retained talented young infrastructure lawyers into senior associate and partner positions.
Ana Bonnington
Associate, Clyde & Co LLP
Ana is passionate about improving diversity and fostering a spirit of inclusion amongst her clients and colleagues. She has demonstrated dedication to mentoring junior members of the team, supporting their personal and professional growth. Having recently returned from maternity leave, Ana has a particular interest in improving the support available to, and raising the profile of, working people with caring responsibilities, and those returning to work following a period of absence. Ana is involved in supporting the firm's gender equality committee and is currently writing a blog sharing her experience.
Julia Ann Corkery
Director, EY
In what is still a relatively male dominated sector, as a leading female in the Irish infrastructure market, Julia Ann has fought against bias throughout her career. She has done this by standing toe to toe with her peers and demonstrating her skill and experience and by taking all opportunities that have arisen. She shares her passion for infrastructure and gives junior female team members the opportunity to learn about all aspects of infrastructure and get involved in interesting projects, building a pipeline of future female infrastructure leaders.
Julia Pyke
Director of Financing, Sizewell C
Julia is a leader in the UK nuclear industry, currently working tirelessly to deliver the Sizewell C new nuclear project. She is a keen advocate of net zero, diversity in the nuclear industry, as well as skills and opportunities for local communities. Julia takes every opportunity to use her profile and network to promote diversity in the workplace at speaking events, in the media, and through everyday actions including at board level.
Sara Barin
Senior Associate, Freshfields Bruckhaus Deringer
Sara is a projects lawyer with a focus on infrastructure and mining. She is a part of Freshfields' Sponsorship Programme for senior women and is an active member of our women's network. She leads the initiatives of our Turkey group (including multiple award-winning transactions in Turkey), and is a Women in Mining network participant. She is also a part of our Graduate Recruitment Committee, and a trainee supervisor for many years. Coming from a diverse background herself, she has been a mentor internally, championing diversity and inclusion and challenging bias.
Poonam Mohabeer
Partner/Internal Accountant, CubeLynx
Poonam is an equity partner in the financial modelling consultancy CubeLynx. following their son's autism diagnosis, the company was set up my her and her husband to recruit neurodiverse modellers. As well as promoting neurodiversity the company has a track record in recruiting female financial modellers which are under-represented in the industry. Poonam is a unsung hero in CubeLynx and does a lot of work behind the scenes to the benefit of her colleagues. As well as being a family-owned business she also juggles work alongside raising a young family.
Funke Adekoya
Senior Advocate of Nigeria, AELEX
She has practised as a legal practitioner for over 45 years, becoming the 5th woman to be elevated to the rank of Senior Advocate of Nigeria in 2001. She is highly revered in the international arbitration circle and has repeatedly won "arbitrator of the year" and "lawyer of the year" awards. She is a role model to many legal and arbitration practitioners. She midwifed the inclusion of diversity at her firm by initiating and seeing through the admission of two women into partnership at AELEX, in 2020.
Mathilde Girard
Investment Manager, Energy Access and Efficiency, CDC Group
Mathilde leads innovative transactions in the energy access and efficiency space, providing finance to a variety of distributed renewable energy companies. She has been instrumental in developing new investment strategies and is an established industry thought leader. At the transaction level, she works with clients to develop sustainable financing structures for nascent business models. In addition to her strong commercial acumen, Mathilde is driven by CDC's mission to expand energy access in underserved markets, while simultaneously addressing climate challenge through renewable generation solutions. Mathilde is also a key member of CDC's 2X Working Group, which focuses on supporting gender-lens investing across CDC's portfolio.
Henrietta Royle
Chief Executive Officer, Operis
Henrietta Royle, CEO of Operis, leads a gender-balanced executive team, including two c-suite females. Founding member of the 30% Group, she advised on the creation of the Treasury's Women in Finance Charter. Henrietta initiated Operis signing up to the Charter, setting public recruitment targets for female candidates to improve gender balance in the Analytical team and establishing the Operis Women's Network. Henrietta actively seeks external mentors for Operis women and encourages discussion about issues around women and employment. She is a trained coach who focuses on developing senior management women.
Stephanie Wagner
Partner, Mayer Brown LLP
As a partner in the Government Transactions Practice and Projects and Infrastructure group of Mayer Brown's Chicago office, Stephanie Wagner is committed to supporting and facilitating the progress of women and diverse lawyers. She regularly mentors attorneys and identifies specific staffing assignments that offer growth opportunities aligned with their stated career goals. Additionally, Stephanie is active in women's organizations, including the firm's Chicago Women's Forum, and externally, Women in Public Finance and the Women's Infrastructure Network. She also encourages women associates and counsel to participate in these professional associations.
Kate Speir
Senior Vice President, ASTM North America
Ms. Speir has 22 years' experience specializing in large-scale transportation project delivery, successfully leading landmark deals across North America. Kate's commitment to the professional empowerment of women is evident through her long-term appointment as the Women's Infrastructure Network NY Chapter Board Chair; her involvement in Cornell University, Women in Public Policy Mentorship Program; Canadian Consulate–Cross-Border Women Mentorship Program; and her service as Planning Committee Chair for Vancouver YWCA Women of Distinction Awards. Kate is also a Board Member of Insurgo Foundation, that addresses the impacts of youth food insecurity.
Mariya Maksymova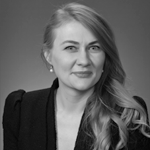 Director, Kiewit Development Company
Mariya has been excelling in the infrastructure development field by demonstrating leadership and providing solutions for complex issues that may arise on various projects she has worked on. Mariya has a calm confidence about herself and isn't afraid to speak up and ask thought-provoking questions that bring light to solutions that may not have been considered. As a young professional woman, Mariya has already achieved multiple career milestones and has shown that she is not afraid of being a leader in the construction industry, which is primarily a male-dominated industry.
Laura Coates
Legal Director, Clyde & Co LLP
Laura Coates is an advocate for improving diversity and eliminating bias across the firm. She is actively involved in the firm's GECCO (gender equality) and ACED (achieving cultural and ethnic diversity) committees, and was a Highly Commended Finalist at the Inspirational Women in Law Awards 2021. Within the projects team, Laura initiated the implementation of a gender neutral salutation paper and arranged for everyone to be offered unconscious bias training. Laura also works with Aspiring Solicitors and Bridge to the City, in support of inclusivity and diversity in the profession
Sondra Martinez
Managing Director, Norddeutsche Landesbank ("NORD/LB")
Sondra has proven herself as an industry leader in an industry dominated by men – as evidenced by her being recognized as PF Banker of the Year in 2020 and more recently being asked to join the distinguished Board of ACP (the American Clean Power Assoc.) the industry's most influential and trade and lobbying Association. Moreover, Sondra has a long track record of organizing womens groups within the industry to leverage and support their respective positions and further promote womens contribution to renewables and banking. Finally, Ms. Martinez also actively mentors junior staff and is always looking to recruit more women and / or minorities into the industry She leads by example and is deserving of further recognition.
Zoe Markwick
Principal, Square Peg Infrastructure
Zoe is a tireless advocate for women and inclusion more broadly – making everyone feel like they can bring their whole selves to work to make them, their company and their work as good as they can be. Always willing to challenge conventional thinking, asking the tough questions, Zoe is a true friend and champion – thank you for all that you do!
Join our LinkedIn network
Stay connected! Join fellow members on our global LinkedIn page. Follow us for industry insights, interviews and thought pieces, plus the latest IPFA news and announcements on our upcoming activities.